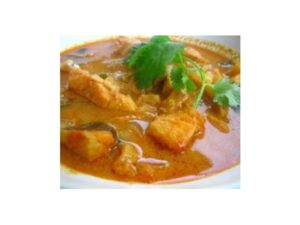 I am  not a fan of fish curry or such like dishes, but this is one dish I do love.  It is bursting with flavor and we are very sure you will enjoy it too.
Ingredients
45ml coconut Oil
1 Large Onion, finely chopped
4 Jam Tomatoes (Skins off and Stick blended)
3 Habanero Chillis
2 Tablespoons Brown Seedless Tamarind (Soaked with approx. half a cup of water. Black tamarind can also be used)
I Tbs freshly ground Ginger and Garlic
1 to 2 Pinches of Black Mustard Seeds
1 Pinch Methi Seeds
1.5 Tablespoon rough Sea Salt
1.5 Tablespoons Kashmiri Chilli Powder
1.5 teaspoon Rajah mild curry powder
1.5 teaspoon Rajah all in one curry powder
1 teaspoon Garam Masala
1.25kg Fish Slabs (tail end)
1 Sprig Curry Leaves
1 Tablespoon low sugar Tomato Paste (optional)
Dhania to garnish
Instructions
Braise onions on medium heat.
Add ginger garlic mix, mustard and methi seeds.
Add chillis.
Add masalas and mix
Stir in tomatoes and toss for a few seconds.
Add curry leaves.
Add tamarind water and cook for approx. 10 minutes (until tomatoes are almost melted) on medium to low heat.
Add salt and add fish.
Cook for a further 10 to 12 minutes, turning the fish over once or twice until the fish is fully cooked.