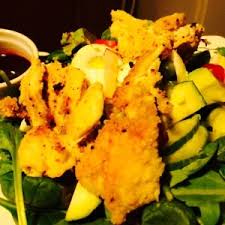 It's that time of the year again when we want to shed our jackets and indulge in fresh salads. While I enjoy a classic Caesar, or a good romaine, I also like to make salads that are not found on everyday menus.
Serves 4
You'll need:
3 cups shredded Chinese cabbage
3 cups shredded red cabbage
1 cup shredded carrots
1 cup unsalted cashews
1/4 cup chopped chives (try cutting with scissors)
1 cup roughly chopped mint leaves
1 cup torn cilantro leaves
4 small red thai chilies, seeds removed and finely sliced (optional if you don't like spice)
4 fully cooked chicken breasts, cut into slices
For the coconut lime dressing:
1 cup of coconut milk
2 tbsp of fish sauce
4 tbsp of lime juice
2 tbsp of coconut sugar
Combine cabbage, carrot, cashews, chives, mint, cilantro and chicken in a large bowl and toss gently to combine.
In a measuring cup, combine coconut milk, fish sauce, lime juice and sugar. Stir well to combine. Pour half the dressing over the salad and gently toss. Divide between plates and top with chilies. Add more dressing to taste.
I like to make a lot of dressing and keep some in fridge to dip veggies in or pour over rice, but you can half the dressing recipe if you want to. Beware of the chilies, as they are very spicy. After slicing them, wash your hands very well and don't touch your eyes or nose. If you prefer a little less spice, sprinkle the finished salad with dried chili flakes instead.