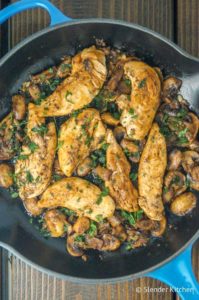 Low in fat but big on flavorâ this healthy, vitamin-rich meal of tomatoes, spinach, mushrooms, and chicken goes from stove top to table in a flash.
INGREDIENTS
4 Skinless boneless chicken breasts
Himalayan salt
Black Pepper
1 can diced tomatoes (drained)
1 bag fresh baby spinach
2 cups thinly sliced fresh mushrooms
1/2 cup mozarella cheese
COOKING INSTRUCTIONS
1. Season the chicken with salt and pepper to taste.
2. Coat a large nonstick skillet with low fat cooking spray, and place it over medium heat. When it's hot, add the chicken and cook for 5 to 10 minutes, or until it's no longer pink and the juices run clear.
3. Remove the chicken to a plate, covering to keep it warm. Add the garlic to the pan. Cook for 2 to 3 minutes, or until the garlic is fragrant. Add the tomatoes, spinach, and mushrooms. Cook for about 3 minutes, or until the liquid is reduced by half. Put the chicken back in the pan and stir. Adjust the seasoning, if necessary.
4. Sprinkle with the parmesan cheese just before serving
SERVES: 4