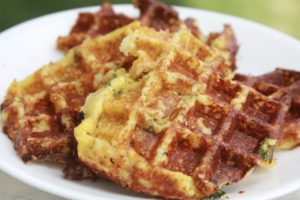 This is one of my most favourite weekend breakfast recipes.  I love waffles, and I just absolutely love this brekkie!
INGREDIENTS
1 cup processed, raw cauliflower (should resemble coarse crumbs)
1 cup processed mozzarella shredded cheese
1/3 cup Parmesan cheese/shredded
2 eggs
1 tsp garlic powder
1 tsp onion powder
1/2 tsp pepper
1 Tbsp chives
fresh parsley, optional
sun-dried tomatoes, optional
COOKING METHOD
Heat waffle maker until ready. Add scant 1/4 cups filled with batter on the griddle. Set the timer for 4-6 minutes, peeking after minute four. If the waffle maker sticks, let cook slightly longer. Remove once cooked. allow to cool on a plate. Refrigerate remaining.
Makes 6 waffles.