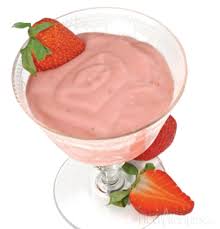 Ingredients
4 large strawberries (plus 1 for topping)
100 grams nonfat cottage cheese
1 tablespoon fat free milk
5 Vanilla or Strawberry Flavor drops or to taste ( I use the Tony Ferguson Infusion Drops)
Stevia to taste
Directions
Puree strawberries with cottage cheese, milk, Stevia, and Flavor drops. Serve chilled.
Variations:
Freeze for a frozen treat. Makes 1 serving (1 protein, 1 fruit) – 17.5 gram protein – .5 gram fat – 115 calories
Phase 3 modifications: Substitute mixed berries, top with whipped cream or serve as a dip with fruit.