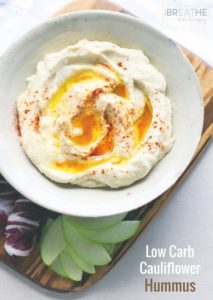 I have been missing hummus in a major way lately, and finally got around to trying this experiment with cauliflower to stand in for the chickpeas.  I noticed recently that my low carb cauliflower puree has the consistency of hummus when cold, and thought if I added just the right ingredients I could mask the cauliflower flavor enough to convince people that it was the real thing.
INGREDIENTS
3 cups raw cauliflower florets
2 Tbsp water
2 Tbsp coconut oil
½ tsp salt
3 whole garlic cloves
1.5 Tbsp Tahini paste
3 Tbsp lemon juice
2 raw garlic cloves, crushed (in addition to above)
3 Tbsp extra virgin olive oil
¾ tsp kosher salt
smoked paprika and extra olive oil for serving
INSTRUCTIONS
Combine the cauliflower, water, 2 Tbsp avocado or olive oil, ½ tsp kosher salt, and 3 whole garlic cloves to a microwave safe dish. Microwave for about 15 minutes – or until softened and darkened in color.
Put the cauliflower mixture into a magic bullet, blender, or food processor and blend. Add the tahini paste, lemon juice, 2 raw garlic cloves, 3 Tbsp olive oil, and ¾ tsp kosher salt. Blend until mostly smooth. Taste and adjust seasoning as necessary.
To serve, place the hummus in a bowl and drizzle with extra virgin olive oil and a sprinkle of paprika. Use thinly sliced tart apples, celery sticks, raw radish chips, or other vegges to dip with.
NOTES
Approx. nutrition info per ¼ cup: 141 calories, 14g fat, 3.5g net carbs, 2g protein