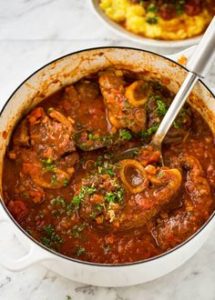 This is one awesome recipe – I love it and hope you will too.
INGREDIENTS
1.8kg veal shank, cut across the bone in 2 slices
2 tablespoons coconut oil
1 small onion, chopped
1 small carrots, chopped
3 garlic cloves, chopped
1 teaspoon salt
1 cup diced tomatoes, with their juice
1 cup dry white wine
1 teaspoon dried oregano leaves
2 tablespoons lemon zest or 2 strips lemon peel (2 x 1/2-inch)
1 tablespoon unsalted butter
1 tablespoon grated Parmesan
1/4 cup chopped Italian parsley
DIRECTIONS
In a large, heavy-bottomed pot, heat oil over medium heat. Pat shanks dry, sprinkle with salt and pepper. Brown in oil, two or three at a time. Transfer to a plate.
Add onion, carrot, garlic and salt to the pan and cook 5 minutes, until tender. Add tomatoes, wine and oregano. Return veal to pot.
Bring to a boil, reduce heat to low. Simmer until veal is very tender, about 1 1/2 hours. Transfer veal to a serving platter.
Cook sauce, uncovered 10 minutes more, until slightly thickened; remove lemon peel. Add parsley. Pour sauce over shanks.
NOTE:
I adapted this recipe for Phase 2 when I felt like having Osso Buco, and you can too.  Just leave off the items that you cannot have.