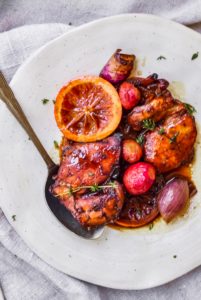 Enjoy this tangy citrus chicken dish which is great if you're having guests over for dinner, or just as a super quick easy mid-week meal
INGREDIENTS
1 free-range chicken
2 lemons, juiced
2 grapefruit, juiced
3 cloves garlic, finely chopped
2 T coconut oil
COOKING INSTRUCTIONS
Cut the chicken into 4 pieces. Mix the remaining ingredients except the coconut oil and marinate the chicken for 1 hour.
Preheat the oven to 200°C. Heat the coconut oil in a non-stick pan over a medium to high heat and brown the chicken.
Finish in the oven until cooked through and golden, basting with the citrus marinade.