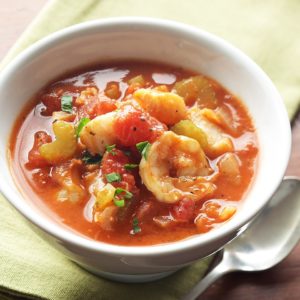 This is a wonderfully aromatic soup perfect for the seafood lover. Add a salad and you have a great summer supper.
INGREDIENTS
SERVINGS 4-6 UNITS
1⁄4 cup coconut oil
1 1⁄4 cups onions chopped
2 tablespoons garlic chopped
4 teaspoons oregano dried
1 1⁄2 teaspoons fennel seeds, dried
2 cans dice tomatoes
2tablespons bottle clam juice
180 gms minced clams
450gms shrimps shelled
170 gms crabmeat
2 tablespoons dried basil
1⁄8 teaspoon cayenne pepper
COOKING DIRECTIONS
Heat oil.
Add onions, garlic, oregano and fennel.
Sweat onions until tender.
Add tomatoes, clam juice, and liquid from canned clams.
Bring to stew consistency (about 15 minutes).
Add shrimp, clams, and crab meat.
Cook on medium heat about 2 minutes.
Add basil, cayenne,and black pepper to taste.
Simmer 2 more minutes.