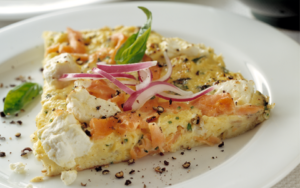 FENNEL, CAPER, AND SMOKED SALMON FRITTATA
BASIC FRITTATA
Preheat the oven to 200°C. Heat 2 t coconut oil in a 22cm non-stick cast-iron pan over a medium heat.
Beat 4 free-range eggs (4 whites 2 yolks – for 2 people), season and pour into the pan.
Cook for 2 minutes, then add the topping of your choice.
Place into the oven for a further 3–5 minutes, or until set and golden brown. Serves 2.
Scatter 2tspns over fritata and season.
Serve hot topped with 4–6 smoked salmon ribbons and a handful of crisp shaved fennel.
Drizzle with a little coconut oil (optional).