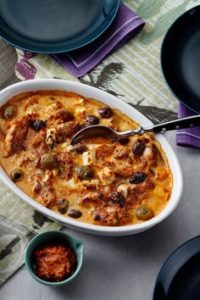 A dish we can highly recommend, we have this one on a regular basis as it tastes amazing and is easy and quick to prepare.
An amazing chicken dish that is loved by people of all ages. All the way from Italy, so do enjoy this fab dish!
INGREDIENTS
700 g

chicken thighs or

chicken breasts

100 g

red pesto or green pesto

400 ml

fat free cream

120 ml

pitted olives

225 g

feta cheese, diced

1

garlic clove, finely chopped

salt and pepper

Coconut oil, for frying
COOKING METHOD
Preheat the oven to 200°C.
Cut the chicken thighs or filLets into pieces. Season with salt and pepper and fry in coconut until golden brown.
Mix pesto and heavy cream in a bowl.
Place the fried chicken pieces in a baking dish together with olives, feta cheese and garlic. Add the pesto mix.
Bake in oven for 20-30 minutes, until the dish has turned a nice color.
Serve with baby spinach or other leafy greens and your favourite low carb dressing.