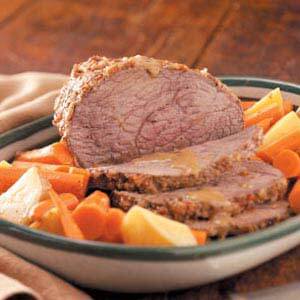 Ingredients
1 boneless beef rump roast or chuck roast
3 tablespoons coconut oil
1 cup hot water
1-1/2 teaspoons beef bouillon granules
1/4 cup ketchup
1 tablespoon dried minced onion
1 tablespoon Worcestershire sauce
2 teaspoons caraway seeds
1 teaspoon salt
1/2 teaspoon pepper
2 bay leaves
2 tablespoons all-purpose flour
1/4 cup cold water
Cooked potatoes and carrots, optional
Method
In an ovenproof Dutch oven over medium heat, brown roast in coconut oil on all sides; drain.
In a small bowl, combine the hot water and bouillon; add the ketchup, onion, Worcestershire sauce, caraway, salt and pepper. Pour over roast. Add bay leaves.
Cover and bake at 325° for 3 hours or until tender. Remove roast to serving platter; keep warm.
In a small bowl, combine flour and cold water until smooth. Stir into pan juices; bring to a boil. Cook and stir for 1-2 minutes or until thickened, adding water to thin if necessary. Discard bay leaves. Serve with cooked potatoes and carrots if desired.