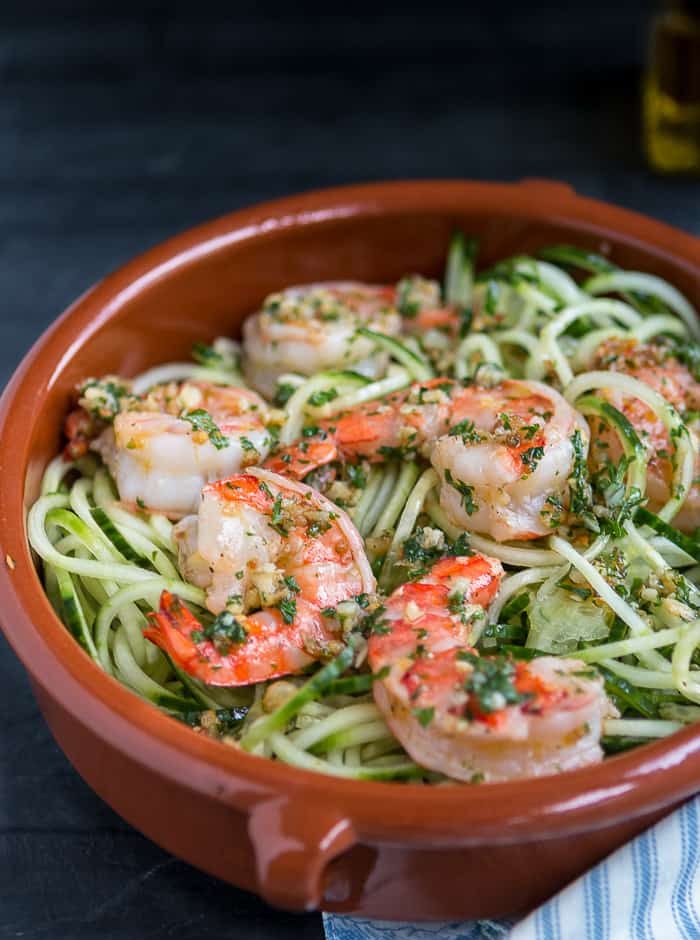 This Cucumber Noodles with Garlic Shrimp recipe is a simple, delicious, and healthy meal, ready in less than 15 min. Perfect weeknight meal.
INGREDIENTS
1 English cucumber 
1/2 cup of coconut oil
6-8 cloves garlic, peeled and very finely chopped
500 gms shrimp, peeled and deveined
Salt and pepper to taste
1/4 cup a very lite white wine (leave out in phase 2 substitute with low sodium soya sauce)
1/4 cup parsley, finely chopped
METHOD
Spiralize the cucumber. Cut it into smaller strands if they are too long. Set Aside
Heat the oil in a large skillet over medium heat. Add garlic and saute for 2 minutes. Stirring constantly to prevent burning.
Add in shrimps and season with salt and pepper to taste. Cook on one side until they turn pink. Add the wine (or low sodium soya sauce) and parsley, and flip the shrimp over, and cook until pink and wine is reduced; about 2 more minutes.
Mix in the cucumbers and toss to combine. Sprinkle with more parsley, if desired.
Serve immediately.