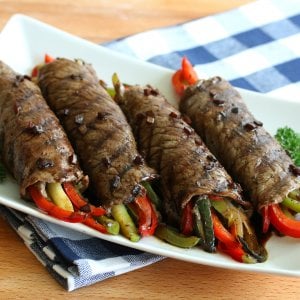 INGREDIENTS 
Extra-virgin olive oil
Sea salt and freshly ground black pepper
Some chopped fresh rosemary
The following all sliced into thin strips: 1 small yellow onion 1 small red bell pepper, 1 small green bell pepper, 1 small zucchini, a handful of fresh mushrooms
For the Rosemary Balsamic Glaze:
1/4 cup dark balsamic vinegar
2 tablespoons red wine
1 tablespoon liquid stevia
1 clove garlic
2 sprigs fresh rosemary
¼ teaspoon freshly ground black pepper
¼ teaspoon sea salt
1/2  teaspoon arrowroot dissolved in ¼ cup beef or chicken broth
INSTRUCTIONS
First get the rosemary balsamic glaze going while you prepare the steak and veggies: Place all the ingredients in a small and bring it to a boil over medium-high heat for 2 minutes. Reduce the heat and simmer for about 10 minutes. Discard the sprigs of rosemary. Stir in the cornstarch/beef broth mixture and stir until the sauce is thickened, about a minute.
While the glaze is simmering, cook the vegetables in a skillet with a little olive oil, salt and pepper until crisp-tender.
Lay the sirloin slices on a cutting board and lightly rub all sides with olive oil. Sprinkle with some salt, pepper and rosemary. Divide the veggie slices among the steak strips, lining them up vertically on one end of each steak. Start with that end and roll the steaks, securing them with a toothpick.
Cook the steaks on a grill or in a frying pan for those nice grill marks)for about 2 minutes on each side or according to desired doneness. Serve immediately drizzled with the rosemary balsamic glaze.