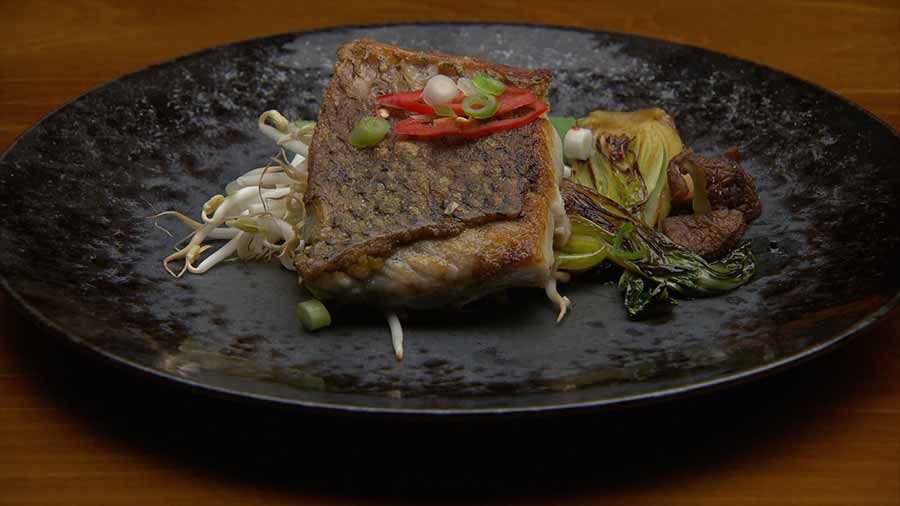 or an Asian-inspired seafood dish, try this succulent Pan Fried Barramundi served with Bok Choy and Vinaigrette
Ingredients Asian Vinaigrette
Asian Vinigarette
1 tbsp light soy sauce 1 tbsp fish sauce 2 tbsp Chinkiang vinegar juice of half a lime 1 tbsp mirin 4 birds eye chillies, finely diced 1 long green chilli, finely diced 2 cloves garlic, finely chopped 4 coriander stems, finely chopped 2 slices ginger 2 spring onions,
Shiitake Mushrooms
finely sliced Shiitake mushrooms 100g shiitake mushrooms, quartered 1 tbsp coconut oil
Fish
Barramundi 4 x 250g fillets of barramundi, skin on 2 tbsp coconut oil
Bok Choy
Braised Bok Choy 2 tbsp coconut oil 4 bunches bok choy, outer leaves removed, halved lengthways 3 slices ginger 3 tbsp light soy sauce
To serve bean sprouts long red chilli, finely sliced coriander leaves salt and pepper, to seaso
Steps:
For the Asian Vinaigrette, place all ingredients and 2 tablespoons of water in a small bowl and stir well to combine. Season to taste and set aside.
For the Shiitake Mushrooms, heat coconut oil in a large frypan over high heat. Add mushrooms and cook, stirring occasionally, until golden and tender. Season, remove from heat and set aside in the pan to keep warm.
For the Barramundi, season the barramundi fillets with salt and pepper on both sides. Heat a large frypan over a medium heat. Fry the barramundi, skin side down, until the skin is crispy, about 2-3 minutes. Turn the fillets over and fry until just cooked through, about 1-2 minutes. Remove from pan and set aside on a warm plate.
For the Braised Bok Choy, heat a large frypan over medium heat. Add coconut oil and place bok choy, cut side down, in the pan. Cook until caramelised, about 1-2 minutes. Turn the bok choy over, add the sliced ginger and soy sauce to the pan with a little water if necessary. Cover and steam until tender and liquid has evaporated, about 2-3 minutes.
To serve, remove ginger slices from Asian Vinaigrette and discard. Place bean sprouts in a pile on each plate. Arrange 2 bok choy halves and a few quarters of Shiitake Mushroom next to the bean sprouts. Place a piece of the Barramundi on top of the bean sprouts. Garnish with red chilli and coriander leaves. Serve immediately with the Vinaigrette on the side.