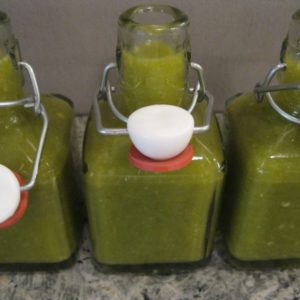 Ingredients
20 Peppers (Fresno, Cayenne, Jalapeno) of your choice
1 1/2 cups vinegar (I used white)
1/2 tsp salt
3 tsp minced fresh garlic
gloves
medium sauce pan
The gloves are for your own protection, especially if you're working with a crazy hot pepper. The oils from the pepper can rub off onto your hands without you even knowing it, or without any adverse reactions. That is, until you go to wipe your eye or scratch your nose or whatever. The oils can easily transfer and cause all sorts of irritation in places you don't want to be irritated!
Special note to contact lens wearers – wear your glasses for this one!
Method
Wash the peppers.
If you're concerned about organic, remember that hot peppers are in the Dirty Dozen and you'll want to buy organic.
Whether you buy organic or not, be sure to wash using an all-natural produce wash(because even organic foods can contain pesticides!)