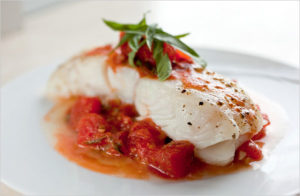 I'm not one for fish unless it is grilled, but this is a fish recipe that I do enjoy and that I use regularly.
Broiled fish topped with a quick garden tomato sauce using summer grape tomatoes, fresh basil and garlic. I served this over orzo for a complete meal.
This simple sauce is also great over fat free noodles, cauliflower mash or chicken.
INGREDIENTS
1 tbsp coconut oil
6 cloves garlic, smashed
1 lb grape tomatoes, cut in half
salt and fresh pepper
1/4 cup fresh chopped basil
Weigh Less Spray and Cook
4 pieces 100 gm's flounder (or tilapia or sole or hake or any white fish of your choice)
DIRECTIONS
In a large skillet heat oil on high heat. Add garlic and cook until golden. Add tomatoes, salt and fresh pepper and reduce heat to low. Simmer for about 15 minutes, add fresh basil and cook another 5 minutes.