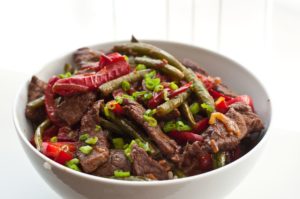 I'm a lover of stir fried veg and meat, and this is one I constantly use and refer back to  – I often use other herbs or spices to come up with a different flavour.
Prep Time: 10 Minutes
Style: American
Cook Time: 10 Minutes
INGREDIENTS
250 gms fillet Steak or Ostrich Fillet or any cut of beef or ostrich you like
1/4 cup chopped Scallions or Spring Onions
1/2 cup chopped Sweet Red Peppers
1/4 cup shredded Mozzarella Cheese
DIRECTIONS
Sauté beef that has been cut into strips in oil in a small skillet over medium-high heat for 1- 2 minutes.
Add scallions and red bell pepper. Sauté until beef is browned and peppers are soft. Add salt and pepper to taste. Drain any excess fat.
Place meat mixture on a plate. Immediately sprinkle with cheese and allow to melt.